UX writer and content strategist with 12 years of experience in UX writing/content strategy/editorial work.
Uber Eats
Led consumer facing writing for Uber Eats app and website, collaborating within a team of 12 UX designers, a team of researchers, and an illustrator across San Francisco, New York, and India
Responsible for implementing writing in a change-driven environment, covering everything from core features, new user education, A/B copy tests and more, impacting millions of global users per day
Developed and established guidelines and process improvements with localization and legal for effective communication, streamlined and efficient legal reviews, and contextualized product translations
Worked with engineering and data science to discover the most effective areas for content tests with the greatest potential business impact
Created cross-organizational style guides for topics including how to publish promotions (for operations teams) and how to create emojis that scale globally in code (for engineers and writers)
Appointed as CFO (Chief Fun Officer)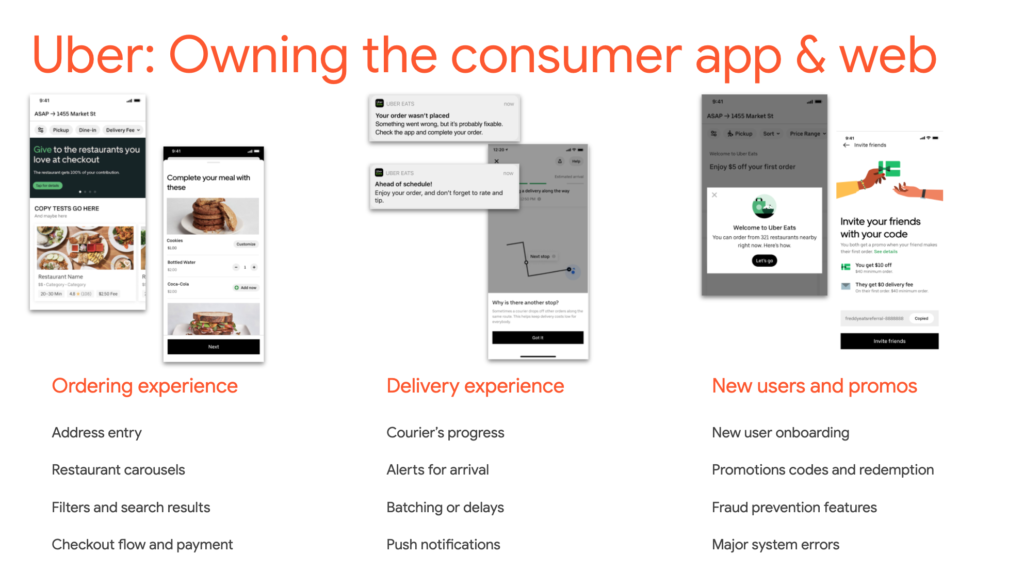 Google
Develop and lead all aspects of UX writing including style guides, copy testing, localization, and accessibility strategies for small business product
Write and strategize clear, concise UI text for backend tools for businesses, including an app
Write and strategize content for consumer facing profiles that appear at the very top of Google searches
Collaborate with operations teams on onboarding and product education strategy, messaging, and emails
Develop frameworks and style guides for growth into new verticals and international expansion
The sole UX writer and content strategist for a a team of product managers, UX designers, UX researchers, engineers and marketing
Co-organizer of internal series on UX writing. Co-writer for UX chapter of Human Centered AI Guidebook.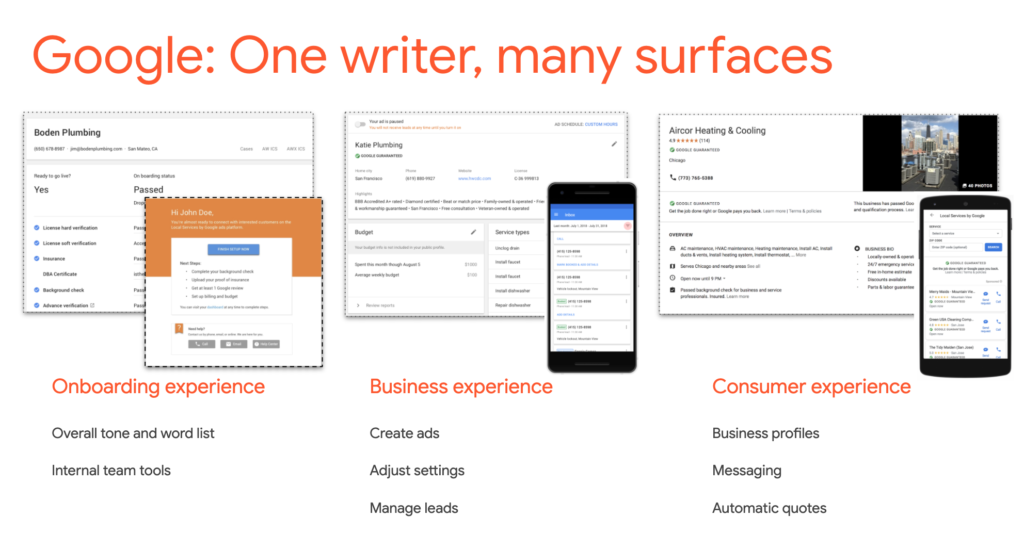 Udemy
Let global audit of UX copy and support center copy
Produced UI concept and copy for a video training and uploading tool integrating video, copy, and educational materials
Conducted content audit of the knowledge base and support base covering more than 1000 articles, PDFs, videos
Created the style guide for UX writing at Udemy, and the style guide and content templates for the knowledge base
Oversaw strategy and governance planning for content migration between knowledge base, support center, and community to new platforms in eight languages
International Center for Maize and Wheat Research (diplomatic posting in Mexico)
Interpreted requests and built creative solutions that addressed internal customer needs for a world class wheat and maize research center
Created and implemented a site architecture for a SharePoint intranet of 1,200 employees in 14 worldwide offices
Developed and maintained an intranet strategy and guidelines including best practices for utilizing the tool, creating permissions, creating sites with the greatest business value while following UX best practices
Developed and led trainings internationally for staff to use SharePoint and WordPress
Project management for a $1M archival corporate project involving defining deliverables and content deadlines between archivists team and a third party content creation team
Worked to develop editorial plan, reduce redundancies, and translate technical jargon into friendly language
Celilo Group Media
Oversaw content from concept, research and writing for six eco city guides with growth from three to six US cities annually
Editorial concept to creation for four city websites with daily environmental information and local blogs, and daily publishing to each
Created and managed social media accounts relevant to brand
Research and fact checking working with local governments for state and national environmental regulations and best practices
Audience analysis and standards for school age appropriate content
Creation of company editorial style guide and voice for web and print
Content localization with each of six regional sales teams
Freelance writing and content strategy
KCET, GOOD, LA Times, Plenty, Cool Hunting, corporate reports
Education
Lewis & Clark College (Poetry)
Also
Professional Spanish
Travel
Cooking school diploma
Cowboy novel